Stephen Yalof
Director, President and Chief Executive Officer
Director of the Company since July 20, 2020
President and Chief Executive Officer since January 2021
Stephen Yalof is the President and Chief Executive Officer of Tanger®, a leading operator of upscale, open-air shopping centers across 20 U.S. states and Canada, with a team dedicated to delivering the best value, experience and opportunity for Tanger's communities, stakeholders, and partners. Working together with the Tanger team, Steve is leading the company in fulfilling its vision to use customer insights and experience to inform the future of shopping.
Steve joined Tanger in April 2020 as President and Chief Operating Officer, bringing with him over 25 years of experience in the commercial real estate industry, primarily in the retail space. He succeeded Steven B. Tanger as CEO in January 2021 and has been a member of the board of directors since July 2020.
Before joining Tanger, Steve spent six years as the Chief Executive Officer of Simon Premium Outlets, where he drove forward the expansion and development of their real estate portfolio. He previously served as Senior Vice President of Real Estate for Ralph Lauren and Senior Director of Real Estate for The Gap, Inc.
Steve serves as a Trustee of the International Council of Shopping Centers (ICSC), as well as on the advisory boards of HeadCount and the Center for Real Estate & Urban Analysis (CREUA) at George Washington University, his alma mater, where he earned a B.S. in Business Administration.
Michael Bilerman
Executive Vice President, Chief Financial Officer and Chief Investment Officer
Michael Bilerman joined the Company as Executive Vice President – Chief Financial Officer and Chief Investment Officer in November 2022. With over two decades of industry experience, Michael has spent the entirety of his career in real estate and has received significant industry, team and individual recognitions. Prior to joining the Company, he served as Managing Director at Citi for 18 years, leading the firm's global real estate investment research franchise and US Real Estate and Lodging team. Under his leadership, the Citi REIT team was named to Institutional Investor's All-America Research Team for 15 years straight, including being the #1 rated analyst team for his last 6 consecutive years. Michael began his career at Goldman Sachs, where he spent 6 years in Investment Banking and Equity Research.
Michael's responsibilities include managing Tanger's finance, capital markets and investor relations teams and leading the Capital Allocation and Investment Committees. He is also responsible for driving the Company's strategic growth initiatives by leveraging the strength of the brand and balance sheet to solidify and grow Tanger's position in the market.
Michael received a Bachelor of Commerce from McGill University in Montreal, Canada with a double major in finance and strategic management. He is an active member of various real estate industry professional affiliations including ICSC, The Real Estate Roundtable, Pension Real Estate Association, NYU Schack Institute of Real Estate and Nareit. In recognition of his impact on the industry, Michael was presented with Nareit's prestigious Industry Achievement Award in November 2020.
Leslie Swanson
Executive Vice President, Chief Operating Officer
Leslie Swanson serves as Executive Vice President – Chief Operating Officer for Tanger, leading the areas of asset management, strategic operations and execution, and business continuity and resiliency. As part of Tanger's senior leadership team, she elevates the Company's mission, vision, and values through an emphasis on ESG practices and performance and by advancing its people, culture, and Diversity, Equity, and Inclusion (DEI) strategies. She also creates and spearheads disciplines that generate new revenue streams and unlock additional value in Tanger's portfolio of centers across the U.S. and Canada.
Leslie joined Tanger in 2020 as Executive Vice President of Operations and was named COO the following year. Since that time, she has led a corporate and field reorganization, implementing practices that cultivate corporate growth and fostering a people-first approach to culture. Her focus on asset management and corporate operating procedures has enabled Tanger to create new revenue levers that complement its core business, strengthening revenue generation and operating capacities at all levels.
Respected as a thought leader for the industry, Leslie has more than three decades of experience in shopping center operations, management, and marketing. Prior to joining Tanger, she spent the majority of her career with Simon Premium Outlets, most recently as Executive Vice President of Property Management guiding eight consecutive years of NOI growth. She is a graduate of Illinois State University, where she earned her Bachelor of Arts and Science degree in Public Relations and Organizational Communication Psychology.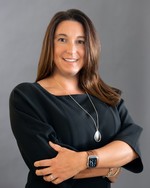 Jessica Norman
Executive Vice President, General Counsel and Secretary
As Executive Vice President, General Counsel and Secretary, Jessica Norman leads Tanger's legal organization, including its corporate governance and compliance functions, and she serves as part of Tanger's executive leadership team.
Jessica has nearly two decades of legal and regulatory experience in both the public and private sectors, focused primarily within the commercial real estate industry. Prior to joining Tanger in September 2023, Jessica served as Chief Legal Officer of Independence Realty Trust ("IRT"), a publicly traded REIT that owns and operates multifamily apartment properties across non-gateway U.S. markets. She joined IRT in 2016 in connection with the company's internalization, after serving for two years as Managing Director, Corporate Counsel for IRT's external advisor, RAIT Financial Trust. Earlier in her career, Jessica worked in private practice with various prominent law firms where she represented clients in sophisticated commercial real estate transactions.
Since 2021, Jessica has also served as a board member and co-chair for the Nominating and Governance Committee for the Ronald McDonald House Charities® of the Philadelphia Region, which supports families on their children's medical journeys with a community of comfort and hope. She holds a Bachelor of Science in Business and Economics from the University of Pittsburgh, as well as a Juris Doctorate and a Master of Business Administration from Temple University.
Justin Stein
Executive Vice President, Leasing
Justin Stein joined the Company in October 2021 as Executive Vice President - Leasing. Prior to joining the Company, he served as Senior Vice President of Leasing at Simon Property Group for 10 years. A consistent top producer and key member of their leadership team, Justin's innovative approach to deal making and relationship-driven mentality has made him one of the most respected and productive persons in the industry. He also has more than eight years of experience in the retail brokerage industry as a Managing Director of Retail for Newmark, CBRE and Cushman & Wakefield.
Justin's major responsibilities include managing the leasing strategies for Tanger's operating properties, as well as expansions and new developments. He also oversees the leasing personnel and the merchandising and occupancy for Tanger properties. Justin is a graduate of Bryant University where he earned a B.S. in Computer Information Systems. He also earned a Master's of Science, Information Systems from Stevens Institute of Technology.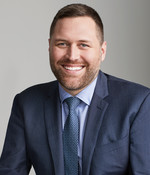 Andrew Wingrove
Executive Vice President, Chief Commercial Officer
Andrew Wingrove joined the Company as Executive Vice President - Chief Commercial Officer in December 2021, bringing over 15 years of experience across consumer brands. Focused on Tanger's transformation from a real estate company to a customer experience company, Andrew is responsible for modernizing the customer experience and cultivating a more digitally native community to further enhance the company's competitive advantage. In his role, Andrew oversees commercial and digital strategy, loyalty, performance marketing, customer experience and brand.
Andrew is a customer-centric, commercially-oriented marketer who most recently served as Senior Vice President for Travel at CLEAR and has held leadership positions at brands such as Bonobos, Delta Air Lines, and Macy's. At Delta, Andrew led the development of its product segmentation strategy and oversaw the Global Distribution and Customer Experience Development functions for the airline. At Macy's, he served as a senior merchant at the corporate offices in New York.
Andrew is a graduate of Emory University, where he earned a Bachelor of Arts degree in Economics.
Thomas Guerrieri Jr.
Senior Vice President, Chief Accounting Officer
Thomas Guerrieri was named Senior Vice President - Chief Accounting Officer in January 2021. He previously held the positions of Vice President - Chief Accounting Officer and Controller from May 2017 to January 2021, Vice President and Controller from January 2016 to May 2017, and joined the company in 2000 as Director of Financial Reporting. Prior to joining Tanger in 2000, Thomas was a Senior Accountant at PriceWaterhouse Coopers. He is responsible for SEC reporting, accounting, and financial reporting and financial reporting systems. Thomas graduated from the Kenan-Flagler Business School at the University of North Carolina at Chapel Hill with a Master of Accounting degree and an undergraduate degree in Business Administration, and he is a certified public accountant.